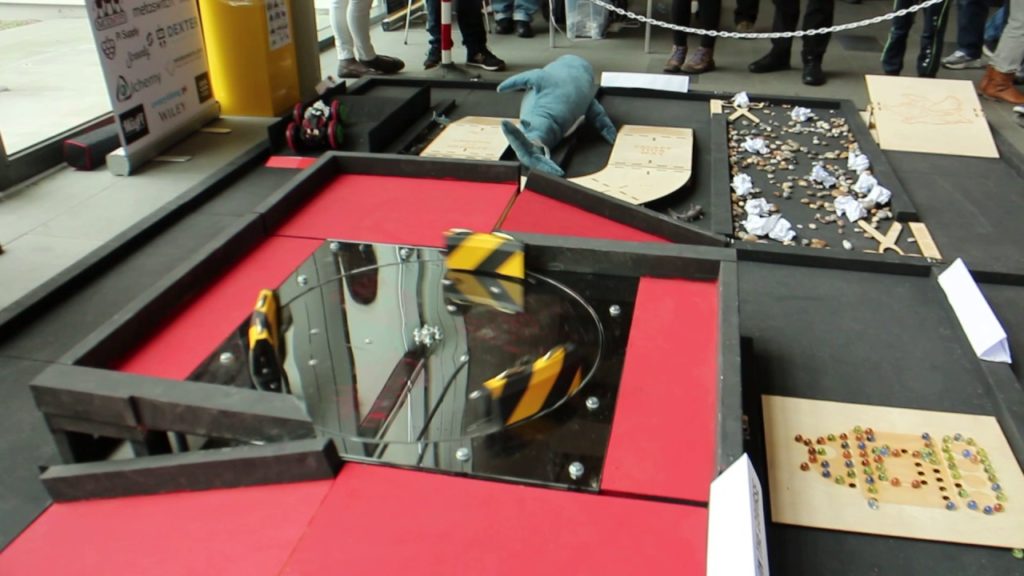 Aim of the Challenge
Robots will navigate an obstacle course of unknown design by remote control, aiming to complete the course as quickly as possible.
Control Method
Time Limit
Rules
All obstacles must be attempted.
You may skip obstacles after first attempting them, but you will not gain points for skipped obstacles.
Ranking and Points
The time taken to complete the obstacle course will be ranked and the following points awarded:

1st: 40 points
2nd: 32 points
3rd : 25 points
4th : 18 points
5th : 15 points
6th : 12 points
7th : 10 points
8th : 8 points
9th : 6 points
10th : 4 points
11th : 2 points
12th : 1 point
Additional Points
20 points will be awarded for each successfully completed obstacle.
40 additional points will be awarded if you complete all obstacles successfully (i.e. a 'clean' drive).
Penalties
For each skipped obstacle, your overall time will be increased by 20 seconds.
Rescues of your robot are penalty-free if you'd like to re-attempt an obstacle to get the points. This, of course, comes at the expense of time.
---
Hints
You must not walk on the course.
Position yourself in a place where you can see the whole course before you start your attempt.
You are allowed to walk around the sides of the course during the run.
Top-heavy robots may have difficulties on some of the obstacles; keep your centre of gravity low.
Good ground clearance may be advantageous.
Robots with good grip and the ability to drive up slopes have done well on this challenge in the past.
Ask Questions and Discuss
You can discuss this challenge and ask questions on this discussion forum.