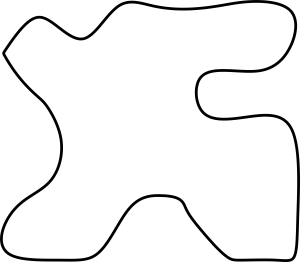 Time limit
5 minutes
Control method
Autonomous
Aim of the challenge
Your robot will autonomously follow a black line approximately 15mm wide on a white background. The 2014 course layout is as shown at the top of the screen – click here or on the image for a larger version. This year's course will be different but we recommend using the design for practice. The black line does not go to the very edge of the perimeter but instead allows a robot A4 in size to navigate safely around.
Note for 2015 competitors: the course will not have vast amounts of colour as per last year – we've learned from our mistakes!
Ranking and points
Robots will be allocated 5 minutes to complete the course as many times as they can up to a maximum of 5 circuits. Each circuit of the track will be timed and the shortest time taken will count for ranking purposes.
Points will be awarded to the top finishers like so:
1st: 40 points
2nd: 32 points
3rd : 25 points
4th : 18 points
5th : 15 points
6th : 12 points
7th : 10 points
8th : 8 points
9th : 6 points
10th : 4 points
11th : 2 points
12th : 1 point
Additional points
10 points will be awarded for each completed circuit of the course.
Penalties
The first rescue is free of points deduction.
Subsequent rescues incur a deduction of 3 points per rescue.
Up to and including 5 total rescues are permitted, after which you must abandon the challenge.
Points will be totalled at the end of the challenge and it is not possible to go below zero points.