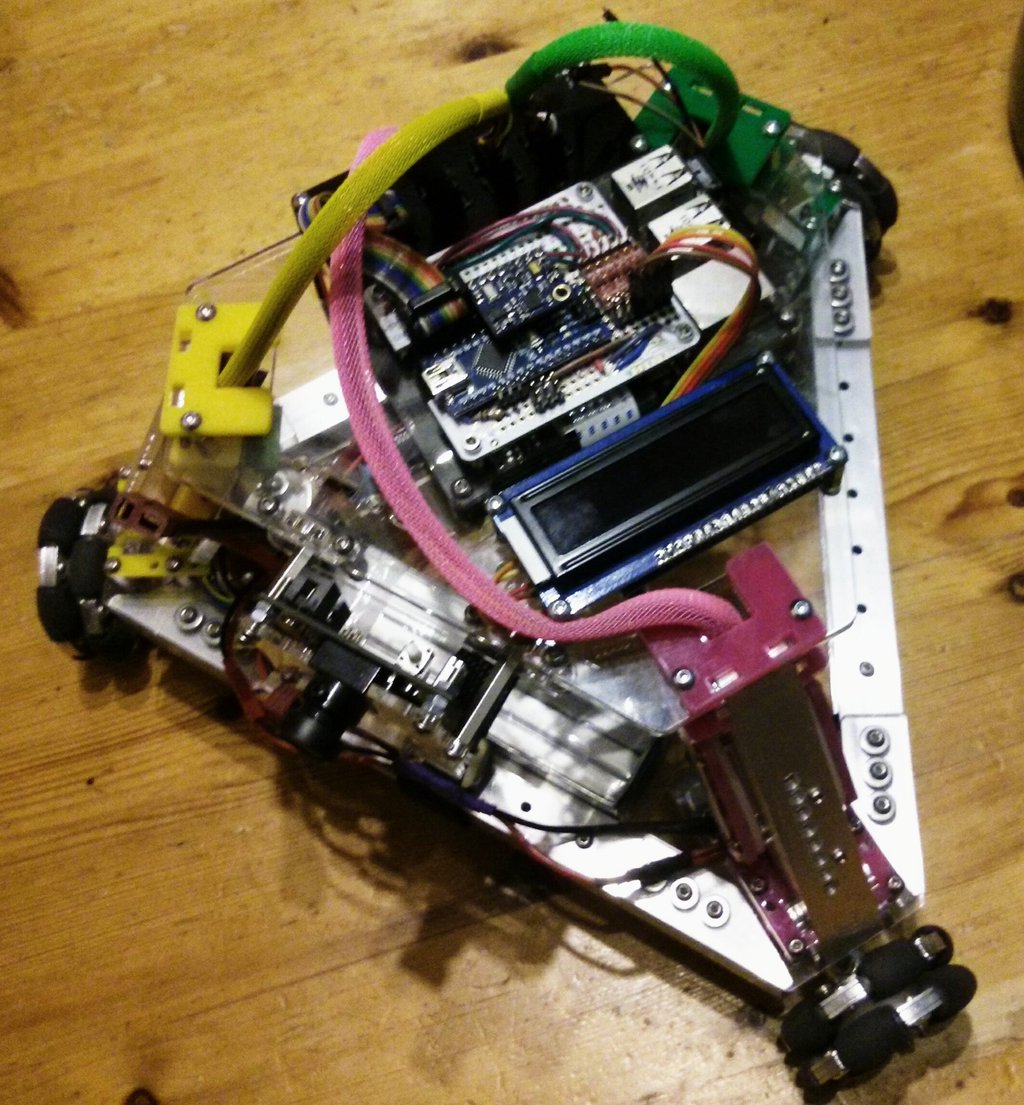 Team principal: Tom Oinn
About the team: Just me, I'm a freelance programmer with relatively little background in mechanical design but access to a nearby hackspace. Software, on the other hand, I do know very well.
The 2015 journey: I decided I wanted to stretch my mechanics knowledge a bit, and learn CAD. I knew I could do software and maths, so I picked a three wheeled design which I could build using our hackspace's laser cutter and some hand tooling, all fairly simple, but which would require sophisticated software. I taught myself how to use Onshape, the free web-based parametric CAD package, using videos from youtube, built an early prototype and tested it at a local schools' event for Ada Lovelace day (testing with hordes of children is the best testing), then worked on and off for quite a few months on getting everything integrated, shiny and covered in flashing lights. In the end I didn't enter any of the autonomous challenges as I ran out of time, focusing on kinematics and making the most agile, shiny, robot I could. I also put a lot of time into documenting and making the code re-usable, as I find it much easier to motivate myself to work on a hobby project if I think there's a chance it can have a life beyond the immediate target.
The highlight: Finding out that the robot duel was a test of agility, having designed a robot deliberately so it would be bad at the anticipated sumo competition in order to not win anything. I loved some of the other designs as well, from the delightfully hacky to the awesome robot cricket ball projector of doom. Seeing the diversity of the competing teams (in terms of age and gender at least) was great too, I hope some of the kids were inspired by my robot to come back this time with something truly spectacular – if so I'll have done what I was aiming for!
Advice for competitors: Do it! You'll have just as much fun with a robot that's cobbled together out of random parts glued onto a piece of plywood as you will with one that's taken several degrees in cybernetics. You don't need to compete in all the challenges, and much of the fun on the day is coming along and seeing what other creations people have brought with them, chatting in the pit area and generally congratulating and commiserating with other competitors. Make a trip of it, Cambridge is a lovely city, we've loads of excellent pubs as well for afterwards!
Next year: Going to apply for the 2017 competition. Either a massively optimised iteration on last year's robot (smaller, faster, more autonomous!) or a walker design, because I don't like making life easy for myself. It will have serious software behind it though, all of which will be open source of course. I anticipate building on the codebase I developed for Triangula for at least some aspects and really optimising and refining the control algorithms